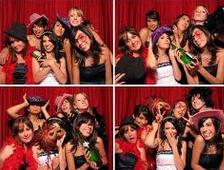 Before, as long as we have a camera we are good to go. Now with Photobooth, everything is done automatically, by itself without the need of a human intervention. Thanks to the photobooth softwares.
But you may wonder, how a photobooth rental works?
Photobooth operates by itself. Yes, you do not need to press any trigger to capture yourself. Usually, a photobooth setup has a tarpaulin background. You can customize this tarpaulin depending in the occasion.
People just need to stand in front of the camera, then wait for the photobooth software's queu. The photo booth has a built in softbox and it uses a continous light to lit pictures. Everything is done automatic.
Then after the session, the photobooth system sends these captures images to the printer that prints it right away.
The photobooth organizer then insert these printed photos to "photo standees" that also serve as a photo frame. Photo standees are hard carton that act as a photo frame and stand as well to display your photos.